Merry Christmas from the Fibbs!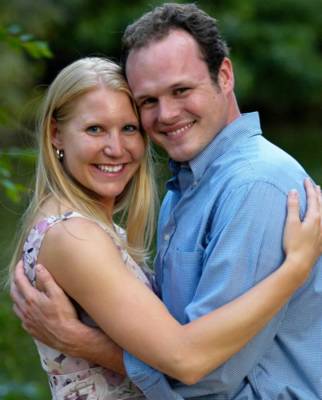 Of the last 365 days, one stands out in particular – September 4, when we joined our lives, our dreams, our hopes, our aspirations together in the holy bonds of matrimony. Since then, we've been working on merging all the other trappings of life, including this, our Christmas letter.
BRANDON: Over the past several years, these Christmas letters have marveled at the speed with which my life has begun to move as legitimate adulthood becomes less of an abstract, intangible specter and more of a daily companion that stares at me from my mirror every morning. While this year is certainly no exception, it will be remembered not for its speed but for the sheer density of the momentous events it contained.
Some people say my smile returned in March with Stephanie, after we had spent eight months apart without seeing one another. It is wonderful to have her home again.
In April, my mother decided to move to Portland, Oregon, to be nearer to my grandparents. After nearly 30 years in Colorado, we packed everything from my childhood home into a moving truck and drove her thousands of miles to her new home. Although the transition was understandably a difficult one for her to make, she is settling into her new life well.
The penultimate event of my life this year was graduating from the University of Colorado at Colorado Springs with a bachelor's degree in English literature with a minor emphasis in Film. I do plan to pursue a master's degree in Film, though not this year.
Since graduating, I've been juggling numerous part-time jobs, including a stint as a youth mentor (and as a wedding planner). All that is changing in the new year. This January, I begin teaching at the University of Colorado as an Adjunct Professor of Film Studies and working as a producer at a local film production company, balancing my dreams for a career in film with scholarship in one hand and creation in the other. After a decade of working weekends and nights in the Navy and through college, I cannot tell you how much I am looking forward to a "typical" job.
STEPHANIE: After spending eight months in Germany, I returned to America on the last day in February. Despite the frustrations I faced, I am thankful for the experience and the opportunity. Without a doubt, one of the best things about the entire experience was the hospitality and generosity of my guest family in Wilhelmshaven, the Deußens. I can honestly say they are the reason I learned German – and a greater appreciation for the culture of Germany. The Christmas season has brought a sweet nostalgia for Germany, which is its most wondrous at Weihnachzeit. I am working to maintain and expand my grasp of the German language.
In an effort to suppress reverse culture shock, I began work again only four days after my return. The Space Foundation generously welcomed me back. I have been working for the Coalition for Space Exploration, a joint public relations effort from throughout the space industry to support the nation's new Vision for Space Exploration to get the space shuttle flying again and pursue a renewed focus on exploration and discovery.
It's been a fascinating job that has also sent me packing on several business trips. In April, I visited Las Vegas for the first time since I was a girl; "sin city" seems an apt moniker after a few walks down the strip (Brandon would like me to point out how excited he was that I visited the Star Trek Experience). In June, I took two separate trips to Washington, D.C., and was able to stay a few extra days. August took me to Cape Canaveral, Fla., where I barely missed the hurricanes and the impact of my job came alive as I toured the Space Coast and stood underneath the space shuttle Discovery, marveling at the engineering and courage that sends a craft that huge into space. And just a few days before our wedding, I had the privilege of helping with a space industry-sponsored party held during the Republican National Convention in New York City. Finally, I traveled to Omaha, Neb., in October. Whew. I do expect more travel again beginning in February.
In addition to all my work-related travel, Brandon and I drove to Iowa this summer to join the family for a celebration of my grandmother Olivia's amazing 90 years of life. Since most of my extended family was unable to come out for the wedding, it was nice to introduce him to all his new relatives.
I returned to playing soccer, an outlet and friendships I had certainly missed. I play on both a year-round indoor team and an outdoor team that plays in the fall and spring. Hopefully, I will find some weekends and fresh powder for some snowboarding again this winter.
US: In between and among our other activities, we spent the summer planning our wedding. We were married September 4 in a traditional liturgical service at First Lutheran Church. Our wedding was simple, elegant, and so beautiful. It was wonderful to have so many of our family and friends gather together with us and witness our sacred day; we truly reveled in the amazing day. We honeymooned first at the Broadmoor Hotel then traveled to Estes Park, where we spent our days hiking through magnificent vistas that we shared with bugling elk in Rocky Mountain National Park. Since then, we've been settling into our cozy Victorian apartment in downtown Colorado Springs and meandering through the complexities and joys of mingling our lives and our things. We find married life suits us well.
We wish you and yours blessings and grace during this sacred season and in the year to come!