We're Live In…Three, Two, One—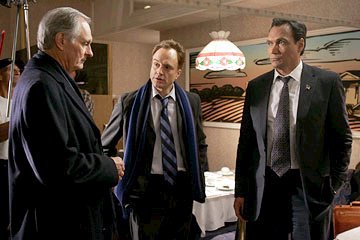 Sick of politics and wishing you could just get away from it all? Why not tune in to NBC this Sunday night, as
The West Wing
goes live in what promises to be a spectacular hour of television.
Are you one of the ones who stopped watching after the show's creator and writer, Aaron Sorkin left and the show's dramatic integrity was shot to hell? Now's the time to come back. I've said it before and I'll say it again—it's as if Sorkin never left. Sometime about mid-last season,
The West Wing
found its soul and is once again drawing lavish critical praise.
Using the reality of a lame duck president and an impending election, the producers of
The West Wing
decided to created a deliciously schizophrenic show, one that hops between the current Bartlett White House and the grit and grime of a lively presidential campaign to decided the outcome of the next four years (it is my hope that the series voluntarily removes itself from the air next year when the new President is inaugurated).
The challengers in that campaign, conservative Democrat Mathew Santos (Jimmy Smits) and moderate Republican Arnold Vinick (Alan Alda) meet in Sunday night's episode, not in a pre-recorded debate, but in a live, no-holds-barred, anything-could-happen-and-probably-will broadcast. It will look like a real debate. It will sound like a real debate. It's even moderated by actual NBC anchor, Forrest Sawyer. Although they have a script, Alda and Smits also received a crash course in debate strategy and issues that will allow them to veer off the page should they decide to improv. Missteps—malfunctioning cameras and microphones, flubbed lines, etc—could prove just as rewarding (and realistic) as a flawless hour.
Don't miss this show or this season.