Annual "Best Films of the Year" 2005
In a few moments, my favorite films of 2005... But first, I feel the need for a snobby rant. Read on, or
skip
to the good stuff a few paragraphs below.

I confess, I often despair over the films John Q. Public chooses to praise.
Sure, film by its very nature is escapist entertainment, but why must it be
only
that? Why can't it be charged with something richer, deeper, more truthful? Why can't film speak to the human condition or the state of the world as does literature, painting, or a fine piece of music?
Film is the most powerful medium for communication in our world today. It is our culture's most accessible means of proclaiming our corporate likes and dislikes, hopes and fears, dreams and nightmares. However, film is more than a way to propagate information or blindly entertain the masses — it is also an art form, capturing the human experience in a way no other art form can. Crafted well, its capability to teach us about ourselves and the world in which we live is unrivaled. Film has the power to move us in ways we cannot even comprehend. It is the communal consensus of what it means to be human. Cinema is the new form of global literacy, and those who are fluent in this language are empowered to communicate with the world. It has the ability to transcend our experiences and understanding, and teach us lessons that fly below the radar of our emotional resistance to lodge squarely in the one place that affects us most--our heart.
So, when will people decide that
Deuce Bigalow: European Gigolo
isn't worth their time and money and opt instead for the enlightenment that comes from seeing
Junebug
? Jump online and peruse a host of blogs about people's favorite films and you'll find a shocking lack of sophistication. Even voters at Internet Movie Database list
Harry Potter
and
Serenity
as two of the year's seminal works. Rotten Tomatoes fares little better.
Perhaps the worst offender of all is the recent People's Choice Awards. Why? Because, I am sorry to say it, the people are stupid. Don't believe me? Here were the nominees for Best Film of the Year:
Star Wars, Batman Begins
and
Hitch
. Excuse me, but who in their right mind thinks that any of those (I thought
Batman
was riveting and
Hitch
quite funny) are the finest, most well-crafted, most lasting and noteworthy films of the year?! The people, that's who. Us. You and I. (Kind of puts a new twist on the whole mob mentality argument. Add that dismal point to the idea of participation in a constitutional democracy and you have...well, you have a whole other blog!) I don't care if the vast majority of people say one thing. As one of my favorite shows,
Battlestar Galactica
, said recently, "That doesn't make them right. It just makes a whole lot of people wrong."
Movie makers may claim that public accolades are their most coveted prize but I don't buy it for a moment. Sure, public support lines a filmmaker's pockets, but when George Lucus accepts an award for
Star Wars
at the PCA and tells the audience, "You are the most important people for any filmmaker. The reason I make films is for you. The audience rules!" I think he is either lying or a lunatic. Or both.
The problem seems to be, people don't want to have to think when they watch films. They want to be able to disengage their brains and release themselves to a sort of mass corporate brainwashing. They think they are entertained but they are merely distracted. There is a vast difference.
Why settle for trash when you can have transformation?


Not everyone seems to be fooled, however. Hollywood was beleaguered in 2005 by dismal returns and tepid attendance. It was, in short, one of the worst fiscal years in remembrance. Could it be because some of the people have woken up and begun questioning the nutritional quality of what is being fed them?

That said, I do find it odd that in such a flaccid year for Hollywood, 2005 was a great year for movies and produced some of the best films I have seen in a very long time. For the most part, this was not a year in which bright, happy, sunshiny films took the pedestal. It was a year of dark, often dismal, daring, prophetic and politically-charged films. The best films of 2005 sought more to educate than entertain, comment on our world than on simple diversion. And while the numbers may have slid (because the average movie-goer is still more interested in seeing The Fantastic Four or The Island than in The Constant Gardener) our lives are the richer for these films.

I'm often asked how I chose my list. True, what is a "best" list if not a "favorite" list? For my money, I know a film is good if it refuses to let me go; if it haunts me; if it sinks its talons into me and I find myself dwelling on it far more than is natural. Munich did that. So did Match Point. The nights I saw them, I hardly slept a minute.

The following list is hardly comprehensive. Unless you are a professional critic there is really no way to see every critically acclaimed film that comes out in a year. Still, what follows is the best of what I saw in 2005.

I'd be curious about your favorite additions. But if you thought Mr. and Mrs. Smith was this year's Citizen Kane, be ready for a fight!

And now, finally...




THE 20 BEST MOVIES OF 2005
(click on any of the film titles for the trailers)

Crash


Crash was the first true cinematic masterpiece of the year. It is a film that speaks with a staggering prophetic voice. It is a film of devastating lyricism and haunting power. It is a film of hushed impact and explosive subtlety. It is a film of breathtaking intelligence--hyper-articulate and throbbing with sumptuous compassion. It is, easily, one of the strongest American films in years. When it was over, I sat in my chair, shell-shocked in stunned silence, trying to sort out my tangled emotions. Written and directed by Paul Haggis, the Academy-Award winning screenwriter of last year's Best Picture winner, Million Dollar Baby, Crash is a story of lives running parallel, losing control, colliding, and careening away from one another again. The film is an intimate tapestry of interweaving lives defined, one way or another, by racism and by our common humanity.



Good Night and Good Luck


There are certain pieces of art that transcend the medium on which they were created to take their place in the diminutive pantheon of ethical signposts, those creative signals that point humankind in the way it should, or should not, go. I did not think America would produce a more timely and necessary film this year than the phenomenally crucial, Crash. But it has. George Clooney's sophomore film, Good Night, and Good Luck is a brilliant tour de force, both of filmmaking and philosophy. It is a daring and to some, a dangerous film. It is a snapshot of a previous era's fight for America's soul writ large on the canvas of contemporary necessity. We are guests as immortal newscaster Edward R. Morrow galvanizes a nation against the tyrannical excesses of government under the leadership of Senator Joseph McCarthy, and know that, while the film works brilliantly as a historical account, it also resonates as an unblinking cautionary tale to the unbridled governmental excesses of contemporary America.



The New World


Terrance Malick is a director on the endangered species list. His celluloid visions—long, introspective, deliberate, visually indulgent—are rarely seen anymore (least of all from him—The New World is only his 4th film in 32 years!). Their scarcity only makes them that much more precious. The New World is a masterpiece. It tells the familiar story of Pocahontas (played by 14-year-old newcomer Q'orianka Kilcher) and her people's first encounters with the Europeans who will colonize America. It imagines their first meetings and how strange they must have seemed to each other. As the great ships sail upriver, American history sails with them. This is Pocahontas' story, though we are also allowed inside the heads of the two men who love her—one as an idea and the other as a person. There are two new worlds in this film—the one the English discover and the one Pocahontas discovers as she is grafted into English society and travels to London. Much is gained in the exchange. Much, much more is lost.

The New World is a thing of wild beauty, untamed and feral yet luxurious, sumptuous and lavish all at the same time. As with all Malick films, nature is the lead actor and the one most lovingly and longingly shot. It is the most artfully sculpted film in American cinema this year. It is an elemental tone poem composed not of words but light, wind, water, sound and fire. Malick creates a vast sensory universe so dreamily paced there's always time to breathe, react and admire. You will leave the theater enraged that the idyllic stillness must be broken by the sounds of car engines, cell phones, and radios; such is the film's all encompassing gravity. This is not a historical reproduction—we, like the characters, are seeing and living history for the first time. And it is mesmerizing.



Munich


In 1994, Steven Speilberg came out with two of the biggest movies of the year--one fun and forgettable and the other, devastating and eternal. I am, of course, talking about Jurassic Park and Shindler's List. In 2005, he did the same thing, giving the world the abominable and silly War of the Worlds (more on that below) and later, the powerful and monumental Munich. Much has been made of Munich's authenticity. Irrelevant. Whether or not the film is entirely true may never be disclosed so long as its events are shrouded in so many secrets. As the credits begin to roll, it doesn't matter anyway. This expertly crafted, Hitchcockian-paced drama about a super-secret Israeli commando team hunting down those Palestinians behind the 1972 Munich Olympic massacre is a cautionary tale all the same. Where is the line between justice and vengeance? Upon how many hands can the blood of innocents rest? When does one cease being a man and become a monster? How are we so different from one another when our grief, our passions and our brutality are so very alike?



Match Point


It's Dostoevsky's "Crime and Punishment"—without the punishment. Or, if you're Woody Allen, you suggest that a guilty conscience is a far harsher sentence than bars and razor wire could ever be. This brilliant and compelling film about lust, love and greed examines life teetering on a knife's edge. On one side is goodness and the other side is luck. If you're a rotten, sycophantic social climber in modern day London, you'll want to fall on the side of luck. You'll need all of it you can get. And while it just may save your life, your soul is another story. Revisiting some of the themes from his stellar Crimes and Misdemeanors, Allen carves out a wicked, unpredictable, engrossing, deftly-acted, sexy, revolting film. This taut tour de force is easily the best thing he's done in decades.
Paradise Now


Could a more important, relevant and complimentary film to Munich have come out in 2005? This Palestinian film follows two best friends who are recruited to become suicide bombers. You see their uncertainty. You see their doubt. You see their conviction. You see their reasons. The juxtaposition between the urban wasteland in which they live and the decadence on the Israeli side is staggering to behold. Don't get the filmmakers wrong--this film does not suggest that violence is the answer. Far from it. But it certainly--and justifiably--shows that the Palestinians have just cause for their anger. This is a film that haunts with the queasy power of nightmares.



Pride and Prejudice


I have to admit, I wanted nothing to do with this movie. In my opinion, the BBC/A&E production with Colin Firth and Jennifer Ehle was so inspired that another remake bordered on sacrilege. I was wrong. It's not better, just different. This film is luxurious! Sublimely directed and shot, Pride and Prejudice captures all of the magic, feistiness, fun and conundrums of the beloved Austin text in a way that is abridged of content but not spirit. A joy to watch from beginning to end.



A History of Violence


David Cronenburg's examination of the secrets we hide to protect ourselves and those we love is a tightly wound masterpiece of storytelling. Mistaken identity and submerged truth vie for dominance in this story of hyper-violence wrought on idyllic small town America. A History of Violence is an unblinking look at our favorite national pornography—gawking excitedly at carnage. But be careful what you look at--you may not like what you see.



Capote


One of the best films I saw at the Telluride Film Festival. Capote is a rich and lush examination of a man so desperate for applause and adulation that he would tease and manipulate others the way naughty children delight in pulling the legs off Daddy Long Leg spiders. This is a fascinating film and one of the best directed of the year. Phillip Seymour Hoffman is nothing short of brilliant as Truman Copote.



Brokeback Mountain


The other best film at Telluride. Brokeback Mountain is a lot of things. Some of it good and some of it bad. But at the end of the film, this is a story of two people (not simply men) who genuinely cherished each other and the derailed lives they left behind them in the reckless pursuit of that love. You may call their love sin, but you cannot call it false. Ang Lee has directed one the most visually sumptuous film to play on movie screens in years.



The Constant Gardener


Selflessness and greed become entangled in this conspiracy thriller about a diplomat's wife who is murdered because she uncovers the truth about a drug conglomerate's nefarious practices in the African hindland. Politically as well as emotionally charged, The Constant Gardener is a mesmerizing walk through beauty, grief, despair and hope from Fernando Meirelles, the director of the shocking City of God.



Walk the Line


This year's "inspiring-and-overcoming-the-odds-to-make-it-big" musical is, in fact, light years better than last year's addition to this category, Ray. While Jamie Foxx alone was luminescent in his role as Ray Charles, Walk the Line shimmers on every level. Skillfully directed, genuinely moving, and impeccably acted (and sung) by its leads, Joaquin Phoenix and Reece Witherspoon, Walk the Line is easily one of the best of its kind.



Syriana


You didn't understand all of it? It went by too fast to take it all in? There was too much information to mentally digest? Yeah, well, that was kind of the point. Life's a lot like that too. This unabashedly critical look at America's gluttony for mid-east oil and the lengths we will go to take and keep it was spellbinding if not always comprehensible. George Clooney strikes again in a daring and searing film that insists this country has far more blood on its hands then the news shows each night. Brilliant.



Junebug


Oh, what a joy of a movie! Truthful yet subtle, realistic without being heavy-handed, Junebug, the story of a southern man bringing his New England bride back home to meet the family is, by turns, delightful, quirky, frustrating, painful, and authentic all rolled into one. But above all else, this movie is a bombshell because it fully introduced the world to the gushing radiance that is Amy Adams. Bravo.



Kingdom of Heaven


Yes, Kingdom of Heaven shows the brutal clashing of great armies. Yes, bloodied blades hack mercilessly at any limbs within their arc, showering the screen with crimson. Yes, massive fireballs rain down on besieged cities. And yes, the desert undulates with men and horses like a colony of ravenous ants across a leaf blade. And yet, there is so much more to it. That the film has monolithic battles, larger-than-life characters, and breathtaking special effects is hardly the point. Kingdom of Heaven pulses with a greater message. It is concerned less with action and more with human motivations. It is more interested in honor, justice, and personal righteousness, especially in the face of overwhelming odds. Kingdom of Heaven is profoundly relevant for our troubled times. In this era of intense religious and political fervor, Director Ridley Scott aims to understand both the Christian and the Muslim side of history and show that co-existence is possible if the voices championing jingoism, intolerance, xenophobia and religious war rhetoric are ignored.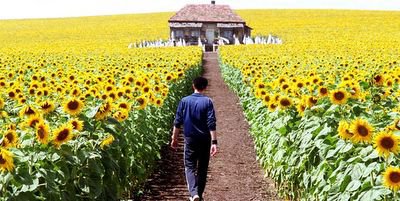 Everything is Illuminated


Yet another favorite from the Telluride Film Festival in which tragedy and farce mingle to tell a story of remarkable beauty and hope. Based on Jonathan Foer's novel, Everything is Illuminated marks the directorial debut of actor Liev Schreiber and what a touching, bittersweet entry it is. What appears to be a story of a young man returning to his Ukrainian roots to find the woman who saved his grandfather from the Nazi death machine turns out to be ruse, hiding a larger and much closer story of sacrifice, guilt and the ultimate closure.



Downfall


What an act of bravery it was to make Downfall. Had this film been produced within the Hollywood juggernaut, that sentiment would be moot. Ambitious, but hardly brave. That Downfall was made by Germans makes it brave. Downfall dwells on the final days of the Third Reich, a time of utter hopelessness supercharged with mad desperation and fantastical optimism. The Russians have swallowed Berlin and now march their way to the city's center where Adolf Hitler and his generals cower in an underground bunker. As Berlin disintegrates around him, Hitler presides over obsolete maps, rearranging imaginary armies in a delusional belief that victory can yet be snatched from the jaws of defeat. Ultimately, even he will realize the futility of his situation and splatter his brains across the wall of his personal study.

Though Downfall received lavish critical praise, many have blasted it for humanizing Hitler. By making him just a man, they say, you lessen his unimaginable crimes. By showing Eva Braun and her unshakable love for history's greatest tyrant, you validate the idea that he had aspects that were, in fact, lovable. However, while humanizing the architect of Nazi Germany's gore-soaked grab for world domination was indeed the aim of the film, excusing his culpability was not. If Hitler is denied a common humanity, he becomes something other, something alien. If he remains in the realm of the monstrous, we cannot truly identify with him, we cannot realize that we too are capable of such evils, that the evils he fueled could happen again. He is even more of a monster precisely because he is human.



The Chronicles of Narnia: The Lion, the Witch and the Wardrobe


C.S. Lewis' timeless allegorical adventure follows the exploits of the four siblings who leave their WWII-era English countryside home for the world of Narnia after entering a magical wardrobe. Once a charming, peaceful land inhabited by all sorts of magical beasts, Narnia is now a world under icy siege by the White Witch. Uniting with the noble and mystical lion Aslan, the children discover that it is their destiny to destroy the White Witch and return Narnia to its idyllic self. Delightfully entertaining and wondrously substantive, this is the sort of film that elevates children's entertainment from banality to greatness.



Broken Flowers


Yet another introspective, introverted performance by the new master of subtle comic nuance, Bill Murray. In Jim Jarmusch's Broken Flowers, Murray plays a bored and depressed millionaire with little to live for until he learns he may have fathered a child twenty years earlier. The resulting road trip to visit all the possible mothers is both hilarious and tragic and while Murray will discover much about himself, the film ultimately ends in delicious ambiguity.



Cinderella Man


This country sure does love its boxing movies. You rarely meet someone who watches the real thing, but turn it into a movie and it's halfway to an Oscar. Sure, Cinderella Man is a bit formulaic. What sports movies aren't, these days, with the exception of last year's phenomenal Million Dollar Baby (see what I mean about Oscar loving boxing!)? But this one's based on a true story, and like the inspiring Rudy, is ultimately more about an underdog with heart than a prince with skill. Russell Crowe gives a strong performance as a loving husband, father and comeback boxer who inspires Depression-Era America by fighting through poverty and injury to win the heavyweight boxing championship.




THE ONES THAT GOT AWAY:



Batman Begins, Charlie and the Chocolate Factory, Me and You and Everyone We Know, March of the Penguins, Sin City, and the "unknown film" because, let's face it, there are a slew I've yet to see...




2005 DUDS:



By duds I don't mean those films that intentionally aim for the lowest common denominator and hit the bullseye every time, but those films that tried so hard to become something they simply did not have the stamina or metal to become.

I love science fiction, but this was a terrible year for it. In fact, my least favorite films of the year were all huge Sci Fi epics that, in my mind, played dismally.

King Kong

Twice as long as it needs to be, hedonistically animated and decadently self-indulgent, King Kong is beastly to be sure, but there is little beauty here. The impulse to create magic and wonder for its own sake is a perfectly viable and I would argue, necessary element of cinemagic. However, when special effects are presented narcissistically as they are here, when they serve no other purpose than to showcase the bravado of the artist, when they exist solely so that someone can thump their chest as the great ape, and cry, "Look what I can do" they cease being magic and become the very worst kind of cheap parlor tricks. This is Jackson at his most self-gratifying. And he simply doesn't know when to stop.


War of the Worlds

I miss Steven Spielberg. I'm not saying a director is not allowed to change, or mature, or grow more cynical with age. But what I am saying is that I miss the youthful vibrancy, childlike zeal, and optimistic idealism that not only defined all of his early films, but several decades of entertainment as well. I miss the Spielberg before he thought he was Stanley Kubrick. I miss the Spielberg that rejoiced in the unknown and took great pleasure in the world's many mysteries. War of the Worlds lacks the zest and joyous energy we expect from a Steven Spielberg picture. It lacks idealistic integrity. And it lacks courage. What happened to the sense of wonder celebrated in Close Encounters of the Third Kind? What happened to the imagination of E.T.? War of the Worlds just may represent the bleakest view of humanity that has ever come out in one of Spielberg's films--much more so than in Munich. He has traded wonder for terror, awe for gore, innocence for cynicism, optimism for fatalism, day-dreams for nightmares, Peter Pan for the Brothers Grimm. The cinema is poorer for it. And so are you and I.


Star Wars: Episode III

Thank God it's over. I'm sure we'll be arguing about whether or not George Lucas should have made these prequels for as long as the vastly superior originals are discussed. But, in my mind these lackluster, bereft of magic, un-muscular, pedantic, over-the-top, childish and just plain silly films are finally where they deserve to be—forgotten.