Stogies and Space Exploration
The 21st Annual Space Symposium, put on every year by the Space Foundation (
http://www.spacefoundation.org/
), a national nonprofit organization that vigorously advances civil, commercial, and national security space endeavors and educational excellence, ended last night. More than 6,500 participants attended the premier gathering of the space industry which featured a wide array of speakers and panels addressing critical policy and programming issues confronting the civil, commercial and national security space sectors. More than 1,000 companies, organizations and institutions from all 50 states and 12 foreign countries descended on Colorado Springs' Broadmoor Hotel (
http://www.broadmoor.com/
) for the week-long event.
Not only does my wife work for the Space Foundation and more specifically, the Coalition for Space Exploration, but my company, Motion Pixel Lab provided the lion's share of the event's video production. This gave me unprecedented access to the event and allowed me to spend each evening, a gin and tonic in hand, moving from one hospitality suite to another, chatting with government officials, high-ranking military officers, astrophysicists, and of course, astronauts covering the industry from the Apollo program to the Shuttle, which is poised to return to flight in mere weeks.
The keynote speaker of last night's closing ceremony dinner was Col Fred Gregory, USAF (Retired), and Acting NASA Administrator for only a week longer before Dr. Michael Griffin is sure to be confirmed in the post permanently. There is a wonderful sense of freedom and security that comes when one knows the end is right around the corner. Gregory's speech was a rousing and often shockingly irreverent call for America to stop wallowing in complacency and mediocrity and embrace the risk and danger that is inherent in pressing the frontiers of space exploration. It was the best speech I have heard anyone deliver in a very long time. I spoke to the editor of Space News (
http://www.space.com/spacenew
) following the ceremony in which he told me it was the single greatest speech delivered at the symposium in the 14 years he's been attending.
All that was perhaps lead-in just to say this: last night, I had the best cigar of my life.
Following the closing ceremony, my wife and I were looking forward to heading home and dropping exhausted into our beds. For both of us, these last two weeks have been a blur of activity and we've barely exchange a dozen words to each other. However, there were a few surprises left, yet.
First was an enchanting personal tour and Broadmoor history lesson given by Silas, the manager of the Hotel Bar. Crafted to reflect the opulence and elegance of the finest establishments in Europe and the Orient, the Broadmoor was first opened in 1918, charged with providing a level of service and overall excellence unattainable anywhere in the United States. The Broadmoor continues to be one of the nation's premier hotels and hosts foreign dignitaries, American presidents and even the Fibbs' on their honeymoon!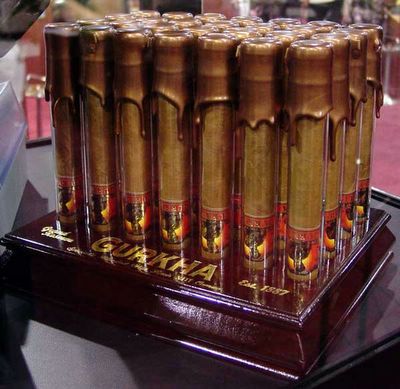 However, the highlight of the evening was when I was treated to a Gurkha Grand Reserve Cigar at the Hotel Bar. Composed of a blend of 1940 pre-embargo Cuban and Dominican leaf, and wrapped in a sumptuous Cameroon Maduro wrapper, the Gurkha Grand Reserves are then infused with Louis XIII Cognac. They are vacuum-sealed in a glass tube that is then dipped in wax to further seal the freshness. The result is an extremely rich, sumptuously creamy flavor with a hint of spice and a pleasantly light finish. The cigar is widely no longer available as the 60 year old tobacco leaf has been used up. This cigar has sold for as much as $250.00 per cigar!
Delicious.
No doubt I'll be smoking another, less opulent cigar somewhere around mid-May when the shuttle-orbiter, Discovery, lifts off its pad at Cape Canaveral and ushers in a new era of heavenly exploration in which humankind is destined to set foot on Mars.
Here's to all the dreamers...and that guy, 60 some years ago, who wrapped one hellova cigar!