U2 Brings Magic and Majesty to Denver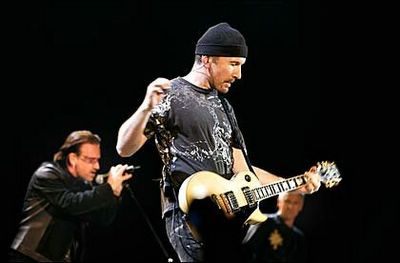 It was my first concert.
Ever.
Well sure, I've been to some smaller-venued Christian stuff, but nothing that could touch this.
Not even remotely. No way.
This was music and magic on a titanic scale.
This was a religious experience. This was like church. Really loud church.
It was either the perfect first concert experience, or the worst because all who come after will be judged by this one.
They're doomed.
U2 is, without question, the greatest band of my or practically any generation. Ever. Period. These four men who have been playing together since their earliest days as a church youth group band have a chemistry and longevity nearly unequaled in the pantheon of music history.
Denver has always held a special place in the hearts of the lads from Dublin. It was here that the now famous "U2 Live at Red Rocks: Under a Blood Red Sky" was filmed. Over 20 years ago, in 1983, a staggeringly young U2 treated 4,400 rain-soaked, shivering fans to a 19-song show that would go down as one of the most electrifying and defining concerts in rock history.
Last night at Denver's Pepsi Center, that electricity crackled again.
Opening to the explosive "Love and Peace" from their brand new CD, "How to Dismantle An Atomic Bomb," U2 quickly segued into the pop, radio-friendly "Vertigo" while Bono pranced around a stage constructed of a motif of concentric glowing circles.
They played a lot of the new stuff and it was fabulous.
Bono plucked a young child from the crowd and walked around the arena with him while singing "Miracle Drug" and later the band performed stirring renditions of "City of Blinding Lights" and "Sometimes You Can't Make It On Your Own."
Blankets of fiber-optic lights unspooled from the ceiling, embracing the stage in an orgasmic display of light and images.
Digging back to their previous CD, Bono began "Beautiful Day" on his knees which followed hard upon "Elevation."
But what blew our minds and proved to be the true triumph of the evening was the old stuff. Stuff they haven't played live in decades.
The goose-bumps started with "Pride (In the Name of Love)" and spread over our bodies at the first strings of "Where the Streets Have No Name."
In a sort of frenzy, we screamed ourselves hoarse, hands beating the air, hopping up and down like it was Pentecostal church service.
I dialed numerous friends and family on my cell phone and subjected them to portions of the concert that were undoubtedly unintelligible, but I couldn't help but share the energy and dynamism in arena.
The highlights tumbled one after another. "New Year's Day" crashed into "Sunday Bloody Sunday" as The Edge miraculously found new ways to chop at his guitar strings.
The miracle of the night was that classic anthems like "Bullet The Blue Sky" and "Mysterious Ways" sounded just as fresh and relevant as the newer songs.
The music was interrupted only a few times for Bono's now famous and poignant sermons which turned into a participatory action as he pleaded for an end to war, for religious tolerance, and for compassion for those perishing in the Third World.
Huddled onstage as if trying to decide what song to do next, U2's encore consisted of a slew of songs, both old and new, cored around their famous--and angst-ridden--relationship with their simultaneously very private and very public Christian faiths.
In the final moments of the concert, The Edge donned an acoustic guitar for a beautiful unplugged version of "Yahweh" which was followed by "40," a song that's lyrics are taken directly from Psalm 40. Used for years as the closing song at U2 concerts, the words "How long to sing this song?" continued to ripple from the mouths of the fans as we floated from the venue and out into the serendipitously rain-soaked Colorado night.