The Powerful Play Goes On…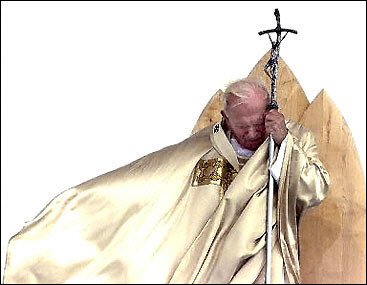 A great man was buried today. His Holiness, John Paul II has left his earthly throne and now kneels at the throne of He whom he served so well.
And this Protest-ant finds himself strangely and deeply affected by his passing.
The Holy Father's death has had an almost gravimetric pull on my mind and heart these past days. I find myself devouring any and all news I can get about his life, his service, and the sumptuously elaborate pomp and ritual that surrounds his burial and the selection of his successor.
When Princess Di was killed, I watched in bewilderment as thousands of people mourned her with gregarious displays of passionate emotion. I didn't get it. I'd never understood why people would allow themselves to become so agonized over the death of one they knew only from TV and magazines. They'd never met her. Most weren't even British. What could she have possibly meant for them to get so worked up over her? But I missed the point. It didn't matter that I wasn't affected. What mattered was that there was something unique about her life that touched them, deeply and personally. And if I didn't get it, or judged them as slightly off-bubble, well, that was an indictment of my smugness, not their sentiments.
I didn't understand it until Christopher Reeve was paralyzed in a tragic horse riding accident. It threw me off balance for days. When news reached me that JFK, Jr. had perished in a plane crash, I was morose for weeks. Why? I didn't know either of them. I never even followed their careers with anything more than a passing interest. But none of that mattered. Something within me called out to something within them…something I never even knew existed until the right circumstance excised it. Something in me saw images of myself in them, or images of who I hoped I might be, or the sort of random, unprocessed, subconscious symbiosis that goes almost totally unidentified let alone unacknowledged in our lives everyday.
My feelings about the Pope's death live somewhere in that metaphysical world—nebulous and indefinable, yet very tangible and palpable all the same.
It is perhaps odd to some that I find such great sadness in the Pope's passing. I am not Catholic. In many ways, I was raised to have a deep distrust of all things Catholic. The crucifix was little better than a pagan idol. "Catholics aren't really Christians," was a phrase I have heard on more occasions than I can count. Older now, and hopefully a bit wiser, I recognize those views for the well-intentioned but misguided fallacies that they are.
And yet, I still wonder at my own sadness.
It may very well have something to do with the spiritual and practical shifts in my own faith. Raised Pentecostal, I have found myself deeply dissatisfied with my inherited version of Christianity and have begun, over the past two years or so, to explore more traditional forms of Christian spirituality (
more on this in upcoming blogs
). While it was certainly uncomfortable in the beginning, I no longer feel as if my fellow congregants at the Episcopal church where I attend are staring at me, muttering to themselves and each other, "Look at that one. Did you see the way he genuflected? Obviously one of those Charismatic types out to see how the other half lives. Really! Spectacles, testicles, wallet and watch—how hard is it?"
As the beauty and gracefulness of church liturgy becomes more and more a part of my weekly and even daily worship, I find that I feel as if I am linked to a far larger and greater community. The liturgical calendar binds me even beyond the sacred commonalities of our salvation to the Lutheran worshiping in Sweden, the Methodist in Chicago, the Anglican in Great Britain, and yes, the Roman Catholic in Italy.
Perhaps it is that.
Perhaps that is only part of it.
Perhaps it is something more.
There was another deeply troubling reminder of mortality this week. Peter Jennings, long-time anchor of
ABC News
and a personal hero of sorts, announced that he has lung cancer and will be leaving the news desk to begin radical treatment to save his life.
Perhaps, that is what is affecting me the most—the idea of fading greatness, or more specifically, fading impact. That lives lived well have both natural and eternal impact but that the greatest of these lives and the greatest of these men will, like me, die and become food for worms one day. Will someone recognize my passing? Will I leave behind a legacy of greatness or service? Will my life touch those on earth and resonate in heaven?
I don't need the pomp, or the fame, or lines winding to my casket that can be seen from space, but something in me does cry out for the impact. Something in me desperately needs to make a difference. Something in me desperately needs that I leave this world better than I found it. Money and power—what are these? If I cannot point to the lives of those around me having been made better, richer, more significant, and even everlasting because I knew them, what will I have truly done?
While tragic for the individuals themselves and painful to those of us who love and admire them, reminders of mortality are not the harbingers of evil we so readily ascribe to them. They are necessary cues inserted into the velocity of our lives. That our lives are, in fact, finite—they have a beginning and they will have an end—and we have only so long to make an impact on the world around us.
To quote one of my favorite movies,
Dead Poet's Society
quoting one of my favorite poets, Walt Whitman, "'O me! O life!... of the questions of these recurring; of the endless trains of the faithless... of cities filled with the foolish; what good amid these, O me, O life? Answer. That you are here - that life exists, and identity; that the powerful play goes on and you may contribute a verse.' That the powerful play goes on and you may contribute a verse. What will your verse be?"
Today, as the Pope was buried, there was no doubt from any quarter that he contributed an elegant verse.
How will mine read?
And when will I stop talking about service to others and actually begin...