God Prepares to Pour Out Wrath On Small Pennsylvania Town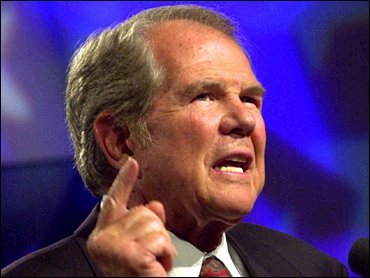 Like a dog returning to its vomit, some people just refuse to learn.
With a long history of apocalyptic warnings and provocative statements under his belt, Pat Robertson this summer called for the assassination of Venezuelan President Hugo Chavez.
Now he's daring God to assassinate an entire Pennsylvania town.
Why?
They had the unmitigated temerity to oust a school board that supported "intelligent design."
Robertson told citizens of Dover, Pennsylvania that they had rejected God by their vote and told them not to be surprised if disaster struck.
"I'd like to say to the good citizens of Dover: if there is a disaster in your area, don't turn to God, you just rejected Him from your city," Robertson said on his daily television show, "The 700 Club."
"And don't wonder why He hasn't helped you when problems begin, if they begin. I'm not saying they will, but if they do, just remember, you just voted God out of your city. And if that's the case, don't ask for His help because he might not be there."
Good grief.
Someone once said, "Lord, save me from your followers." I second that sentiment.
I hear Kabbalah is fun...